Hello Waterleaf friends and neighbors,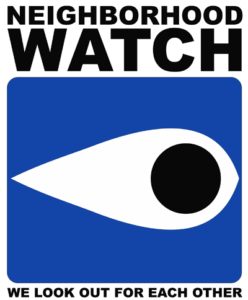 We are in the process of revitalizing the Neighborhood Watch program here in Waterleaf. It is well known that neighborhood watch programs are a real deterrent against crime.
Being part of our own Waterleaf Watch team takes very little effort. We will not have any schedules or appointed times for participating.
If you like to take walks, or run, or ride a bike around the community, you can be a part of the team. If you don't want to wear a Waterleaf Watch shirt, remember everyone can help (even from the comfort of their own homes) by reporting suspicious activity in our community.
What is Neighborhood Watch?
Neighborhood Watch programs bring community members together to be an additional deterrent against crime in neighborhoods. Keeping criminals out of a community promotes a better, and safer quality of life for all residents.
Mission Statement for Waterleaf Watch
• To establish a reputation that Waterleaf is a protected neighborhood, and that criminal activity will be noticed by its residents
• To wear our Waterleaf Watch shirts around the community so as to create a public image that we are ready, and willing, to report criminal activity to JSO
• To further enhance a strong sense of community with neighbors looking out for each other
What all residents should do when we see criminal or suspicious activity:
• Report suspicious activity to JSO
• Never engage a suspected criminal – just report what you see to JSO
• Don't report any activity to our Waterleaf Neighborhood Watch email – only report to JSO
Emergencies – call 911
Jacksonville Sheriff Office Non-Emergency phone (904) 630-0500
Come join us for our Waterleaf Watch Kick Off meeting
Thursday, August 24th at 7:30 PM at Waterleaf Pool/Amenity Center
Whether you want to participate by wearing a shirt or if you would just like to discuss other ways we can help protect our neighborhood from crime, come join us for our kick off meeting.
Thank you for helping to make Waterleaf an even better place to live !
Vida McCullough, Waterleaf Neighborhood Watch Coordinator
neighborhoodwatch@waterleafhoa.com